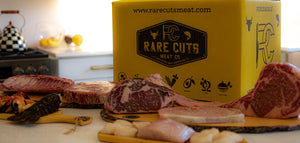 BECOME A RARE CUTS MEMBER TODAY
Its just worth it... really it is.
WHAT IS A RARE CUTS MEMBERSHIP?
So here is the situation, we were sick and tired of companies making it difficult to manage our orders, and get a discount at the same time. Like, what if we didn't want our "box" that day? Or what if we were two days late correcting our box. Automated ordering was not manageable in a way that was popular nor respectable for the customer. So we made it very simple. Small price per month, for discounts on every order, every item, every time. So now you can pick what you want, when you want it, and get discounts each time. Moreover, you get a larger discount per order than the monthly memberships cost with Rare Cuts. Meaning not only is it worth it, but it can be worth it multiple times per month. We set this up because this is what we wanted, and we hope you agree.
SERIOUSLY... ?
We take pride in offering the best , from the best, and at a price that does not make you think twice. So why are we doing this? Well its simple and we will be honest. We want your continued business, we don't want you to second guess who you are shopping with, and we want you happy. We have all been there before with memberships. Questioning if its worth it, forgetting to set up your order, or the worst, what if you just wanted to skip and wasted money. On average our members save over $50 per ORDER. Not per month, but per order. We believe in customer happiness, respect, and the need to make our customers feel appreciated while not taken advantage of. This is the Rare Factor... and we pass that on to you. You work very hard for your money, we appreciate that, and want to give the best offers possible. Thank you very much for your business.
The member only page can be only accessed by Cuts or Rare Members. This page will have just a few items added each week or month, that will only be available to our members. This includes specialty items, recipe meats (basically amazing meals delivered), and bundle packages that include some of the best bottle pics and barrel picks as well. This is just one of the many perks in being a member?
Yes, minus our Gift Cards (because that is cash) you get to incorporate your discount on every single item in our store. This includes blades, bundles, and grills! Save big and enjoy!
Of course this happens a lot when customers see what they will save with 10% instead of 5%. All you have to do is cancel your Cuts Membership and then sign up with the Rare Membership. If you do this within 30 days, we will immediately refund the $7.99 from your Cuts Membership. Just for good measure of course, we are not greedy.